Current Event Journal 6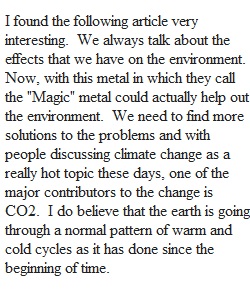 Q Analyze and evaluate a Human Ecology Current Events article. The article must be published during the term that the course is taken. Write an analysis and evaluation of the article, paying particular attention to the scientific accuracy of the material and focusing on how any problems addressed in the article could have been avoided in the first place or the lessons that can be learned and used to create a healthy future human ecology. Be certain to provide a complete Web Address (and citation) for the article in your post. Your Current Event Journal should be approximately 600 words in length. Post your Current Events Journal 6 to the Current Events Journal 6 Discussion Board no later than Thursday 11:59 PM EST/EDT. Post a response to at least one classmate's Current Events Journal 6 no later than Sunday 11:59 PM EST/EDT.
View Related Questions
I found the following article very interesting. We always talk about the effects that we have on the environment. Now, with this metal in which they call the "Magic" metal could actually help out the environment. We need to find more solutions to the problems and with people discussing climate change as a really hot topic these days, one of the major contributors to the change is CO2. I do believe that the earth is going through a normal pattern of warm and cold cycles as it has done since the beginning of time. But it would not hurt us to be able to contribute to the efforts of changing the damage made by humans and this article is a step in the right direction. Please review the following and share your thoughts.