Current Event Journal 5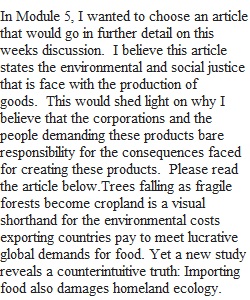 Q Analyze and evaluate a Human Ecology Current Events article. The article must be published during the term that the course is taken. Write an analysis and evaluation of the article, paying particular attention to the scientific accuracy of the material and focusing on how any problems addressed in the article could have been avoided in the first place or the lessons that can be learned and used to create a healthy future human ecology. Be certain to provide a complete Web Address (and citation) for the article in your post. Your Current Event Journal should be approximately 600 words in length. Post your Current Events Journal 5 to the Current Events Journal 5 Discussion Board no later than Thursday 11:59 PM EST/EDT. Post a response to at least one classmate's Current Events Journal 5 no later than Sunday 11:59 PM EST/EDT.
View Related Questions
In Module 5, I wanted to choose an article that would go in further detail on this weeks discussion. I believe this article states the environmental and social justice that is face with the production of goods. This would shed light on why I believe that the corporations and the people demanding these products bare responsibility for the consequences faced for creating these products. Please read the article below. Trees falling as fragile forests become cropland is a visual shorthand for the environmental costs exporting countries pay to meet lucrative global demands for food. Yet a new study reveals a counterintuitive truth: Importing food also damages homeland ecology.