Current Event Journal 1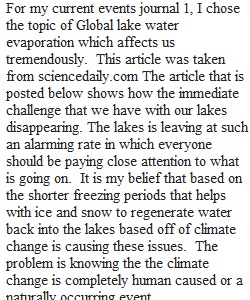 Q For Modules 1-6, you will analyze and evaluate a Human Ecology Current Events article. The articles must be published during the term that the course is taken. Write an analysis and evaluation of the article, paying particular attention to the scientific accuracy of the material and focusing on how any problems addressed in the article could have been avoided in the first place or the lessons that can be learned and used to create a healthy future human ecology. Be certain to provide a complete Web Address (and citation) for the article in your post. Your Current Event Journal should be approximately 600 words in length. Post your Current Events Journal 1 to the Current Events Journal 1 Discussion Board no later than Thursday 11:59 PM EST/EDT. Post a response to at least one classmate's Current Events Journal 1 no later than Sunday 11:59 PM EST/EDT.
View Related Questions
For my current events journal 1, I chose the topic of Global lake water evaporation which affects us tremendously. This article was taken from sciencedaily.com The article that is posted below shows how the immediate challenge that we have with our lakes disappearing. The lakes is leaving at such an alarming rate in which everyone should be paying close attention to what is going on. It is my belief that based on the shorter freezing periods that helps with ice and snow to regenerate water back into the lakes based off of climate change is causing these issues. The problem is knowing the the climate change is completely human caused or a naturally occurring event.