Assignment 8 Critical Analysis Paper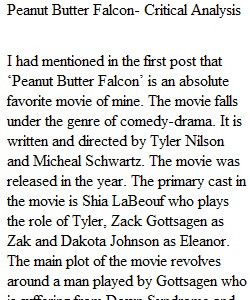 Q For the term paper, I would like you to please choose a film that you consider your favorite or among your favorites, and write a short Critical Analysis of the film. You can choose any film to analyze, but I would like it if you could choose one that you named in either your Questionnaire of Personal Introduction at the beginning of the class. It cannot be one of the assigned films in this class. As with the film critique, be aware that an analysis is not just re-telling the story or plot, so please try to avoid long passages of explaining what happens. Instead it should contain some thoughtful analysis, based on the aesthetic and technical elements of motion pictures you have learned in this class. Writing a great film critique paper may take some time, but if you organize your writing process carefully, you should be able to create a college level paper that should meet the expectations of the most demanding professor. The following is an efficient how-to, including the necessary steps to create a terrific film critique. Step 1. You absolutely must watch the movie. Even if it's a film you know well, you must watch it again while making notes of specific elements and their location in the film. Each film is somewhat unique and will have certain aspects that are different from other films, so there are no common rules for what should be included in your notes or paper. Your notes on the film will definitely assist while constructing the paper, so the more details you collect while viewing the film, the more it will help later.
View Related Questions
Peanut Butter Falcon- Critical Analysis I had mentioned in the first post that 'Peanut Butter Falcon' is an absolute favorite movie of mine. The movie falls under the genre of comedy-drama. It is written and directed by Tyler Nilson and Micheal Schwartz. The movie was released in the year. The primary cast in the movie is Shia LaBeouf who plays the role of Tyler, Zack Gottsagen as Zak and Dakota Johnson as Eleanor. The main plot of the movie revolves around a man played by Gottsagen who is suffering from Down Syndrome and he has escaped the assisted living facility. What follows next is a journey of a lifetime.