6-3 Final Project Milestone Five Forecast the Bestsellers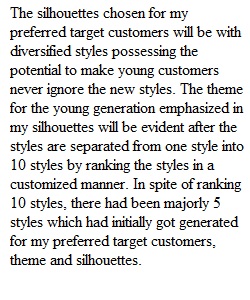 Q Milestone Five: Forecast the Bestsellers In task 6-3, you will submit 3-page paper in Word that assesses the popularity of chosen styles by ranking the styles in numerical order from 1 to 10, with 1 being the best style. Defend the placement of each style in its rank with research. This task will be graded with the Bestsellers Rubric.
View Related Questions
The silhouettes chosen for my preferred target customers will be with diversified styles possessing the potential to make young customers never ignore the new styles. The theme for the young generation emphasized in my silhouettes will be evident after the styles are separated from one style into 10 styles by ranking the styles in a customized manner. In spite of ranking 10 styles, there had been majorly 5 styles which had initially got generated for my preferred target customers, theme and silhouettes.