5.6 - Web Research Discussion Airport and Aviation Safety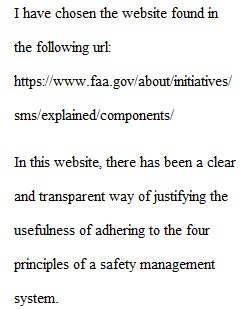 Q This discussion activity will provide you with a real-world application of the topics explored in our course while fostering collaboration between you and your peers. To participate in this activity, you will: 1. Search the Internet for pertinent information that supports the four pillars of safety management. 2. Write a 250-word summary describing how the website relates and supports the Learning Objective you selected. 3. Post the URL of the website you selected along your summary as a reply to this forum. 4. Comment on the discussion of at least one of your peers. It is important that you convey to your peers how the website relates to the Learning Objective and why it will be a valuable resources for them in the future. Examine the Online Discussion Rubric to identify the qualities of effective discussion posts. Note: This discussion ends on the last day of this module. Question: Define the four principles of a safety management system and how these four pillars are the basic building blocks of safety management?
View Related Questions
I have chosen the website found in the following url: https://www.faa.gov/about/initiatives/sms/explained/components/ In this website, there has been a clear and transparent way of justifying the usefulness of adhering to the four principles of a safety management system. The four principles of SMS system are as follows: • Safety Policy – As per the website, there have to be the establishment of specific aims/targets for ensuring that all the aviation employees have a clear vision and become aware about their mission to be accomplished in safety management ("Safety Management System – Components", 2017).