5.5 - Discussion Safety Management Systems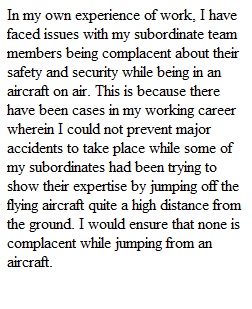 Q From your own work experience, choose a hazardous situation and explain it. Then show how you would apply Systems Safety to improve the situation. Make sure you include all five of the Systems Safety steps – Plan, Do, Check, Feedback, and Act. Read the responses from your peers. Then, use your critical thinking skills and respond to three of your peers' posts from a manager's viewpoint. Do you think the proposed Systems Safety solution will reduce the risk? Examine the Online Discussion Rubric to identify the qualities of effective discussion posts. Note: This discussion ends on the last day of this module.
View Related Questions
In my own experience of work, I have faced issues with my subordinate team members being complacent about their safety and security while being in an aircraft on air. This is because there have been cases in my working career wherein I could not prevent major accidents to take place while some of my subordinates had been trying to show their expertise by jumping off the flying aircraft quite a high distance from the ground. I would ensure that none is complacent while jumping from an aircraft.