5.2 Discussion Human-Centric Design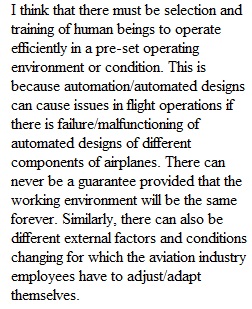 Q Human factors engineers and specialists work with varying sizes of humans in a variety of design situations. The Human Factors Design Guide are specifically developed to assist these professionals in their work. There is a long-standing discussion of whether the working environment should be designed to accommodate human characteristics and functions, or whether the human should be selected and trained to operate efficiently in a pre-set operating environment or condition. Take a stand for either of these views and defend your reasoning. Select a particular aviation or aerospace example to illustrate your case. Explain your rationale and provide at least one scholarly source to support your position. Post your observation (using APA format where applicable) and comment on at least one other student posting before the end of the module week in accordance with the requirements as explained in the syllabus.
View Related Questions
I think that there must be selection and training of human beings to operate efficiently in a pre-set operating environment or condition. This is because automation/automated designs can cause issues in flight operations if there is failure/malfunctioning of automated designs of different components of airplanes. There can never be a guarantee provided that the working environment will be the same forever. Similarly, there can also be different external factors and conditions changing for which the aviation industry employees have to adjust/adapt themselves.