5-3 Final Project Milestone Four Summarize Additional Research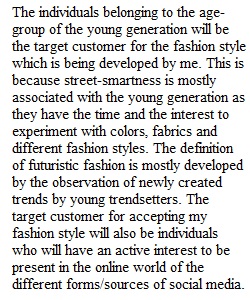 Q Milestone Four: Summarize Additional Research In task 5-3, you will submit a 3-page paper in Word that summarizes additional research regarding the target customer of the fashion forecast. Select one group from the Nielsen PRIZM Lifestage Groups and describe their consumer behavior information. Compare two companies that compete with the chosen fashion company. Identify the price structure, appearance, selection, and quality of the competing products. This task will be graded with the Additional Research Rubric.
View Related Questions
The individuals belonging to the age-group of the young generation will be the target customer for the fashion style which is being developed by me. This is because street-smartness is mostly associated with the young generation as they have the time and the interest to experiment with colors, fabrics and different fashion styles. The definition of futuristic fashion is mostly developed by the observation of newly created trends by young trendsetters. The target customer for accepting my fashion style will also be individuals who will have an active interest to be present in the online world of the different forms/sources of social media.