5-2 Blog Product Development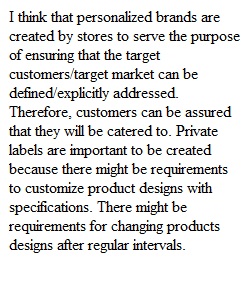 Q In preparation for this blog, review the following video and article: Target Talks Store Brands Development How to Develop a Private Label Expression Aligned With Retail Brand Strategy Product development is the process of taking a product from concept through the design and creation stages to product launch. When stores create their own brands and sell them in their own outlets, they refer to that brand as a private label. Why do you think retailers started doing product development and private label brands? Target has mastered the product development process. What has made Target such a success? What other retailers have been successful with their own product development and private labels? For additional details, please refer to the Blog Rubric document. The captioned version of the Target Talks Store Brands Development video can be found here.
View Related Questions
I think that personalized brands are created by stores to serve the purpose of ensuring that the target customers/target market can be defined/explicitly addressed. Therefore, customers can be assured that they will be catered to. Private labels are important to be created because there might be requirements to customize product designs with specifications. There might be requirements for changing products designs after regular intervals.