3.3 Research Brief Seats and Biomechanics (PLG1)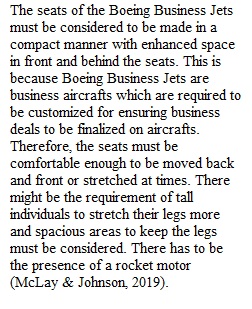 Q Biomechanics can apply to many segments in the aviation industry. One area is in how aircraft seats are manufactured to accommodate flight stresses and absorb impact forces during accidents. Construct a brief description of the elements to consider in designing an effective seat (flight deck, passenger, ejection, or jump seat) for a military, commercial, or business aircraft of your choice. Explain what tradeoffs were involved. Present this as a brief. Your brief should be approximately 800 words in length and should be written in APA format. Save your assignment using a naming convention that includes your first and last name and the activity number (or description). Do not add punctuation or special characters. Your paper will automatically be evaluated through Turnitin when you submit your assignment in this activity. Turnitin is a service that checks your work for improper citation or potential plagiarism by comparing it against a database of web pages, student papers, and articles from academic books and publications. Ensure that your work is entirely your own and that you have not plagiarized any material!
View Related Questions
The seats of the Boeing Business Jets must be considered to be made in a compact manner with enhanced space in front and behind the seats. This is because Boeing Business Jets are business aircrafts which are required to be customized for ensuring business deals to be finalized on aircrafts. Therefore, the seats must be comfortable enough to be moved back and front or stretched at times. There might be the requirement of tall individuals to stretch their legs more and spacious areas to keep the legs must be considered. There has to be the presence of a rocket motor (McLay & Johnson, 2019).