3.2 Discussion Automation and Situational Awareness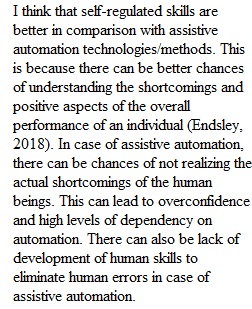 Q Situation awareness is recognized as an integral component of safe and effective operations on the flight deck, in maintenance tasks, and in the air traffic management spectrum. Well-developed training and certification programs for these professional activities are established, yet gaps still occur in operator or maintainer situation awareness when executing tasks. Explain your rationale for whether existing approaches, like self-regulated skills, is the more effective method compared with alternatives that incorporate assistive automation to compensate for human shortcomings. Provide at least one scholarly source to support your position. Post your observation (using APA format where applicable) and comment on at least one other student posting before the end of the module week in accordance with the requirements as explained in the syllabus.
View Related Questions
I think that self-regulated skills are better in comparison with assistive automation technologies/methods. This is because there can be better chances of understanding the shortcomings and positive aspects of the overall performance of an individual (Endsley, 2018). In case of assistive automation, there can be chances of not realizing the actual shortcomings of the human beings. This can lead to overconfidence and high levels of dependency on automation. There can also be lack of development of human skills to eliminate human errors in case of assistive automation. Self-regulated skills can actually work wonders because there can be simulation experience grasped in a better manner while showing confidence in self-regulation and not too much dependence on automation.