Ken Reed 2.4 - Assignment Economic Impact and Safer Travels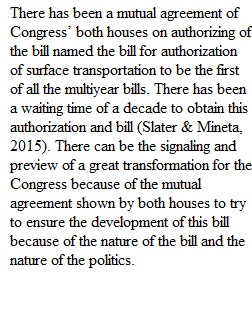 Q Last week we learned about the similarities or differences of four modes of transportation between U.S. markets and International markets. We also looked at the economic impact of the transportation industry. This week we will focus on the laws, acts, and deregulation that affected the transportation industry. Read and Write Read the following article by Rodney Slater and Norman Y. Mineta (12/15/15): Article: Bipartisan highway bill offers hope for infrastructure (Links to an external site.)Links to an external site. From the article, address the following in an essay format: Summarize the main points of the current bill and explain, in your opinion, how this bill has impacted economic activity within the U.S. along with safer means of travel. Complete this assignment in a 1-2 page document using current APA format. Review the evaluation rubric for detailed grading criteria. Submission Save your assignment using a naming convention that includes your first and last name and a description of the assignment. When you have completed this assignment, submit your assignment to your instructor through this activity.
View Related Questions
There has been a mutual agreement of Congress' both houses on authorizing of the bill named the bill for authorization of surface transportation to be the first of all the multiyear bills. There has been a waiting time of a decade to obtain this authorization and bill (Slater & Mineta, 2015). There can be the signaling and preview of a great transformation for the Congress because of the mutual agreement shown by both houses to try to ensure the development of this bill because of the nature of the bill and the nature of the politics.