2.3 Sunny River Resort (Draft 1) Project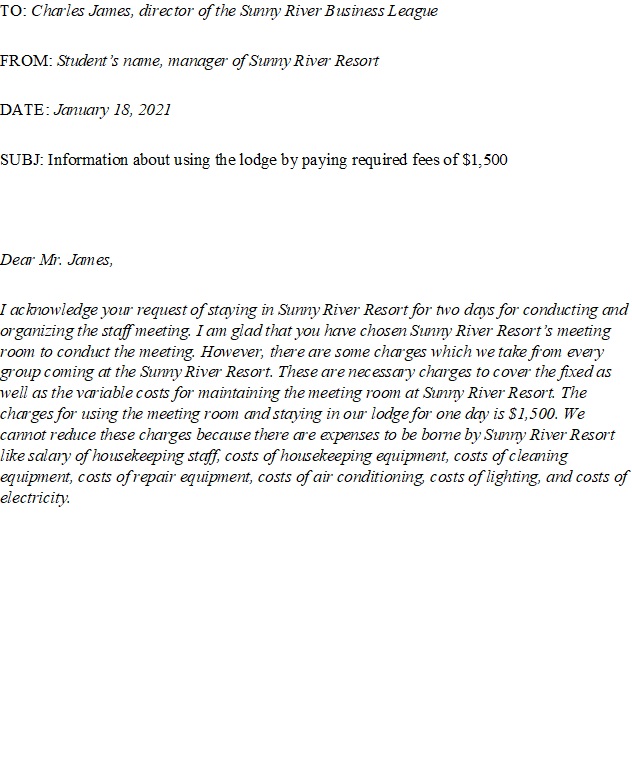 Q Please review the Sunny River Resort project assignment below. (Exercise #3 in Chapter 9 of Writing that Works, pg. 331) "You manage Sunny River Resort. Charles James, director of the Sunny River Business League, has requested the free use of your lodge for a two-day staff meeting. You'd like the business league to use your meeting room, but you have a problem: You charge any group $1,500 per day to use the room. You can't afford to give it away. The room has a number of fixed and variable costs required to clean, pay for lighting and air conditioning, and supply and repair equipment. Also, what might happen if others knew you had provided the room at no cost? Write a letter to Mr. James selling him on the idea of using your lodge while holding to the $1,500 fee. Use tact, a positive tone, and persuasive details." Submit a draft of your letter to your instructor as an MS Word document(s) to the D2L Dropbox here. Please also post your project to the appropriate Discussion topic for peer review.
View Related Questions
TO: Charles James, director of the Sunny River Business League FROM: Student's name, manager of Sunny River Resort DATE: January 18, 2021 SUBJ: Information about using the lodge by paying required fees of $1,500 Dear Mr. James, I acknowledge your request of staying in Sunny River Resort for two days for conducting and organizing the staff meeting. I am glad that you have chosen Sunny River Resort's meeting room to conduct the meeting. However, there are some charges which we take from every group coming at the Sunny River Resort. These are necessary charges to cover the fixed as well as the variable costs for maintaining the meeting room at Sunny River Resort. The charges for using the meeting room and staying in our lodge for one day is $1,500. We cannot reduce these charges because there are expenses to be borne by Sunny River Resort like salary of housekeeping staff, costs of housekeeping equipment, costs of cleaning equipment, costs of repair equipment, costs of air conditioning, costs of lighting, and costs of electricity.