2-2 Activity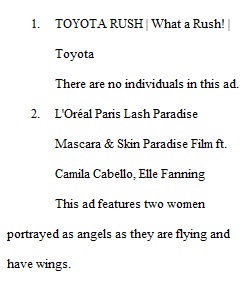 Q Overview In this module, you learned about bias and objectivity. You will apply that knowledge to the analysis of your advertisements. For this activity, you will focus on making objective observations about the people in your advertisements. This will form the foundation of your project and help you to examine additional elements in your advertisements in future modules. Please note that you may not change your selection of advertisements after the end of Module Two. Prompt Use the provided Module Two Activity Template to complete this assignment. You should first review the module resource Example Advertisement Analysis, which will help you distinguish between objective and subjective observations. Next, look closely at your four advertisements and identify the people present in the ads. Then, make objective observations about them and their actions. Finally, discuss the impact of bias on both social scientists and consumers. You are not required to answer each question below the rubric criteria but may use them to better understand the criteria and guide your thinking. Specifically, you must address the following rubric criteria: • Describe how individuals are presented in all of your advertisements. o Your analysis is limited to each person in your ads. You are not examining settings, logos, taglines, mood/tone, or any other element of the ads. Objectively describe the people. What characteristics can you objectively observe using your senses? o In this step, do not make interpretations or judgments about the individuals. • Describe the actions being taken by the individuals in all of your advertisements. o Your analysis is still limited to each person in your ads, but now objectively describe what they are doing. What behaviors can you objectively observe using your senses? o In this step, do not make interpretations or judgments about the individuals' behaviors. • Explain whether social scientists can be truly objective when conducting research. o Consider this week's discussion, the module resources, and your analysis of the people in your advertisements. Do you think social scientists can be genuinely objective when doing research? Explain why or why not. Support your argument with evidence such as examples or quotes. • Discuss how consumer biases may impact the interpretation of your advertisements. o How might the beliefs, assumptions, and/or values of various consumers influence how they perceive your four advertisements? How could their own biases lead them to interpret your advertisements differently than you? Guidelines for Submission Submit the Module Two Activity Template. While references are not required, if you reference sources in your responses, they should be cited according to APA style. Consult the Shapiro Library APA Style Guide for more information on citations.
View Related Questions
1. TOYOTA RUSH | What a Rush! | Toyota There are no individuals in this ad. 2. L'Oréal Paris Lash Paradise Mascara & Skin Paradise Film ft. Camila Cabello, Elle Fanning This ad features two women portrayed as angels as they are flying and have wings. They have beautiful and radiant skin. 3. CASETiFY - Phone Cases & Tech Accessories This ad features a young girl on her way out. She is depicted as a typical girl with trendy clothes and hair, trying to find her keys. 4. Keep It Smooth with Sleek & Shine | Garnier Fructis This ad features different women, two with dry and rough hair, while later a woman with sleek and shiny hair appears. They are all beautiful women, depicted as carefree individuals.